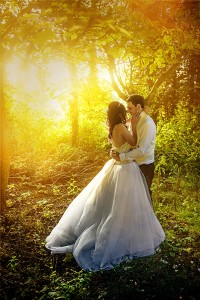 Marilyn Monroe once described herself as a "warm, red autumn" and, on a gorgeous sunny day like yesterday was, it's easy to see the appeal of the season of mists and mellow fruitfulness.
It may come third after spring and summer in terms of popularity as a wedding season, but there are plenty of positives to be found in the cooler, crisper days of September, October and November.
Brides can take inspiration from the rich reds, oranges and golden hues and there are still plenty of flowers to choose from if you want to bring back memories of sultry summer days.
There will be less stressing about the weather, so you can plan for a rainy day but enjoy the sunshine if you are blessed with it.
Fewer people will be on holiday so more of those you care about are likely to be able to attend, and flights and hotels are likely to be less expensive so you could save money on your honeymoon – and avoid hordes of holidaymakers at the same time.
From a photographer's point of view, the autumn light is just beautiful and, as sunset is earlier, there is more chance of stunning romantic shots without adding hours to the package. And darker evenings lend themselves to open fires and candles which can also make for some incredible images you'll want to treasure forever.
You may not be able to show off a picture of the bridal party in a perfectly manicured garden full of summer blooms, but imagine instead your little bridesmaids (or even grown-up ones!) kicking up fallen leaves or with bouquets of berries.
Here in Kent, we are known as the Garden of England and with good reason, so why not take advantage of that and use the abundance of fruits in your wedding? From table decorations to delicious crumble, there's a place for everything from apples to pumpkins if you so desire.
And your guests may thank you for it as they can add tights and jackets to their wedding outfits without fear of spending the day looking like a hot sweaty mess.
In short, we love autumn weddings in Kent – and we'd love to talk to you if you are planning one!