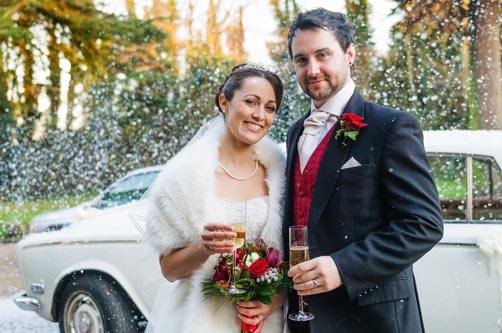 It's the most magical time of the year, and there are plenty of reasons why Christmas is also perfect for a wedding.
If you are a fan of the festive season, why not add to the celebrations for years to come by adding a new husband or wife to your list for Santa?
We've come up with some reasons why Christmas nuptials are the best but we'd love to hear yours too!
Your venue will probably already be decorated for Christmas so it will look extra sparkly and pretty. You get to save money on the extra flowers or other decorations and if in doubt just add extra fairy lights – job done!
You don't have to worry about the weather. It will probably be cold and wet so you can plan for that – no last-minute stress that outdoor elements will have to be moved inside, and any sunshine is an added bonus. Just make sure you choose a photographer who is confident working inside and who can provide additional lighting as necessary.
The wedding can be an extra festive family gathering, without the need to drag the cobweb-covered garden table in from the shed and borrow chairs from the neighbours. And no mammoth festive food shop either…
There are no wrong choices with the wedding breakfast – you can play it safe with turkey and all the trimmings and it will fit in perfectly with the Christmas feel, or go for something totally different and everyone will be glad for a break from the festive roast.
You can escape on honeymoon straight afterwards and avoid the debate about whose parents to spend Christmas Day with.
Christmas Day is a popular time to get engaged, so build on that with a festive wedding too – then you only have one date to remember instead of two.
The post-Christmas lull can be spent unwrapping presents, writing thank you cards, choosing your photos and generally basking in the glow of being newlyweds.
You will need to be quite organised to get all your Christmas gift shopping done in good time, and if your dream day involves a beach at sunset then a Christmas wedding probably isn't for you, but for anyone who still believes in the magic of Christmas it really is the perfect time of year to get married. And what better way to start a new year than with a brand new husband or wife?