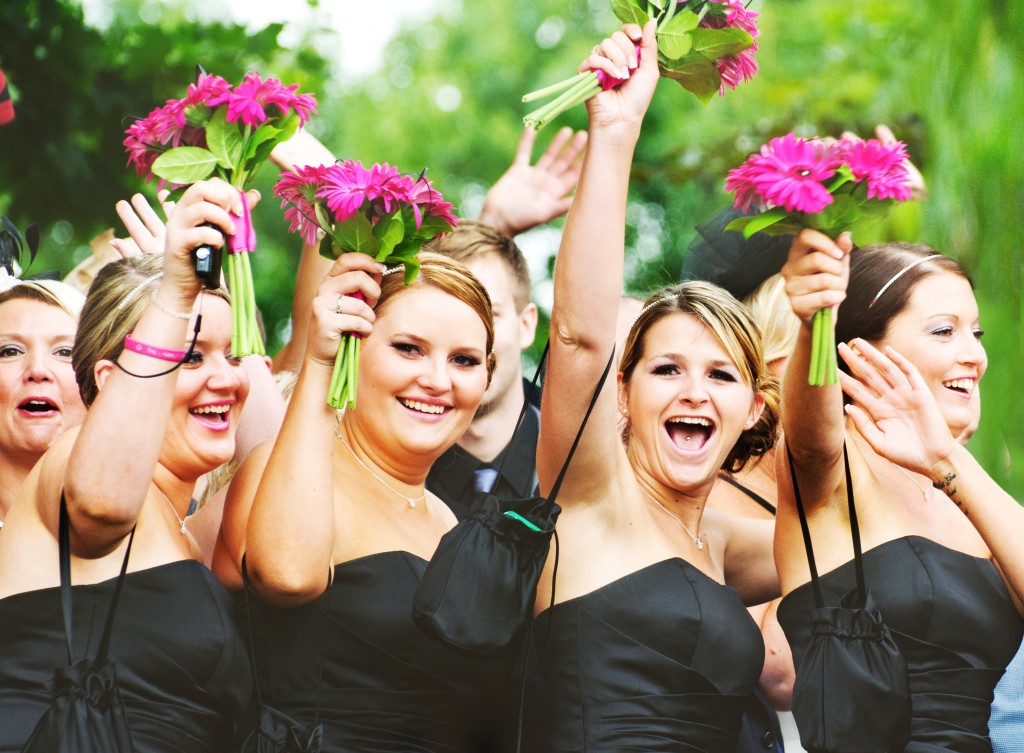 We spent our Sunday chatting to hundreds of couples at the south east's biggest wedding fair, The Wedding Experience at Detling, near Maidstone in Kent. It's perfect for us as it's not far from our studio in Herne Bay, and within reach of some of our favourite wedding venues.
It was a great event, and it's always so lovely to chat to brides-to-be and their fiancés, or mums, or bridesmaids, about their own stories and their plans for the day.
But if you're new to wedding planning, walking into your first wedding fair can feel a bit daunting and it's hard to know where to start. So here are our top tips for getting the best out of a wedding fair.
Have fun! Make it a day out, take your bridesmaids if you know your fiancé would rather be watching the football or out on the golf course. Give yourself time to enjoy it – try not to pop in 'on the way' to somewhere else or you risk feeling rushed and under pressure.
We love lists, and a wedding fair is the perfect opportunity to make one. A list of things you'd like, things you still want to book, or ideas you see – lists are your friend.
We also love chatting, and talking to suppliers is a crucial part of the day. Yes, you can wander round, pick up business cards and freebies and then browse websites and Facebook pages later, but there's no substitute for meeting the people who will be part of your day. Wedding photography is so important and so personal that you need to make sure you are on the same wavelength as your chosen photographer and that they understand your vision of your day.
Keep it realistic. You're bound to see some fantastic ideas and some creative displays, but if your wedding is in your local church then a marquee at home do you really need to arrive by helicopter? Equally, if you're paying for it all yourself or working to a budget, hand-dyed Italian linen napkins may be gorgeous but are there other elements you'll have to lose in order to afford them?
Try before you buy…or have your cake and eat it! A wedding fair is full of freebies, and it's your job as a bride to take advantage of them. So taste those cake samples, try on those tiaras and sit in the cars. But see point 4, above, and try not to get too carried away..
Revisit your favourites. Just because you'v been to every stand doesn't mean you've finished. If you realised you forgot to ask the cake maker if she can produce a nut-free, dairy-free and gluten-free version, pop back and ask. If you liked the style of the images on display at a photographer's stand but meant to check if they had worked at your venue, go back and ask. It's the perfect opportunity to find out more about your suppliers and to check they are a perfect match. After all, you can't tell from an email whether eyebrows were raised when you mentioned your twin two-year-old nieces who will be doing a dance showcase at the reception…
Make time for a debrief. Whether it's a girly lunch on the way back, or over a takeaway and glass of wine with your other half that evening at home, take time to go through all the goodies you picked up. Pick out the ones that grabbed you, that were in keeping with your day, or that were simply must-haves, and then drop them a line, or simply click like on their Facebook page. That way you can make sure you don't miss out on any post-fair special offers, you can check out more of their work and you are one step closer to ticking that particular piece of your wedding jigsaw off the list.
Do you have any wedding fair tips? Or did you meet a great supplier at a wedding fair? We'd love to hear your stories!